Former White House adviser Steve Bannon promoted a new "alternative" cryptocurrency—$FJB coin—he has worked to develop during a Thursday episode of his podcast, saying it well help supporters of former President Donald Trump "F Joe Biden" and "fight for America."
Bannon, who served as the CEO of Trump's 2016 presidential campaign as well as Trump's chief White House strategist, was officially pardoned by the former president right before Trump departed from the White House in January. The far-right political strategist had been facing charges of fraud related to a crowdfunding campaign he launched to raise money for Trump's much touted border wall at the U.S. border with Mexico.
Since being pardoned, Bannon has regularly promoted the conspiracy theory that the 2020 presidential election was "stolen" from Trump and "rigged" in favor of President Joe Biden. He regularly hosts pro-Trump guests on his War Room podcast, touting a range of right-wing causes and issues.
During his Thursday episode, Bannon spoke with right-wing political strategist Boris Epshteyn about their $FJB coin venture. They claimed that the new cryptocurrency would help those connected to the "Make America Great Again" (or MAGA) movement "fight" for Trump and their country.
"We are now saying, 'screw Joe Biden,'" Bannon told listeners. "We've got a coin—it's got, the imprint is that, OK. It shows your total and complete independence, right? Our non-reliance—and you're going to very quickly have non-reliance on their financial system. So no longer can they bother you," he said.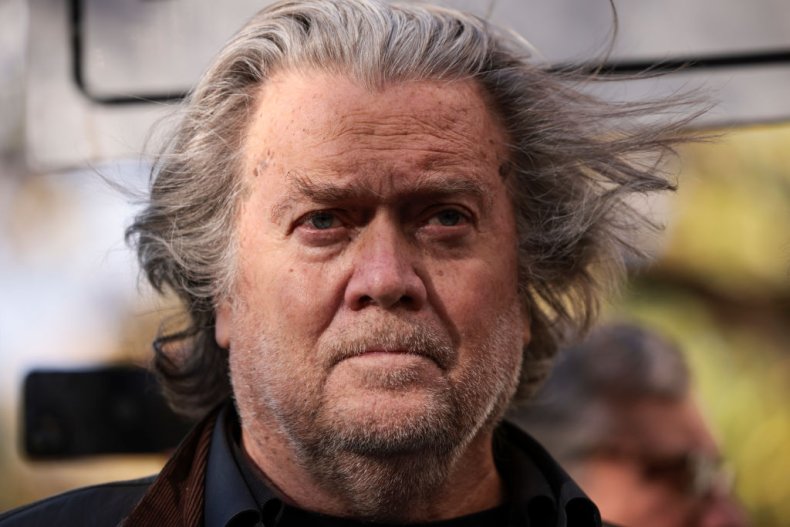 "They're not going to be able to disappear you like the Chinese Communist Party, like the Bolsheviks, like the Nazis, like anybody—like any of these radicals that have ever taken control of these apparatuses. What they try to do is get rid of the good people," Bannon said. Notably, there is no indication of any effort or plan from the federal government or Democrats to "disappear" Trump supporters.
"Yeah, F Joe Biden and F the media and all of them—could care less," Bannon said, urging listeners to check out the new cryptocurrency.
The website for $FJB claims the "coin fights for America." It urges visitors to, "Join the fight. Join the movement. Join the community." Just below that message is a red oval with the words "Click to buy $FJB."
"What started as a chant, is now a movement," the about section of the website explains, referencing the viral chants of "F*** Joe Biden" that have been heard at numerous sporting events around the country.
"This is about the voices of every individual across the world being heard when they felt like they've been silenced. We started this project as a rally around this movement with two main objectives, one, to build a community where people are free to voice their views without fear of being shamed, discriminated against or cancelled and two, charitable giving to veterans, first responders and all of those who have given their lives for this great country," the website added.
The $FJB website notes that the cryptocurrency can currently be purchased at XT.com, PancakeSwap and ProBit. "We are working diligently on adding more exchanges to make $FJB Coin accessible for everyone around the world!" it adds.
The new cryptocurrency has a total supply of 40 billion with some 17.8 billion tokens already burned. In order to purchase the digital coin, buyers must also pay an 8 percent transaction fee, which the website says "goes to both marketing and charity wallets to support our marketing initiatives and allows us to donate to Veterans, first responders and those have have given their life for this great country."
Axios reported earlier in December that right-wing individuals and groups are working to develop their own apps, publishing houses and cryptocurrencies in an effort to avoid the services provided by "Big Tech" and traditional companies they see as opposed to conservatives. High profile examples include right-leaning social media platforms Gettr, Parler and Trump's announced platform Truth Social.
A pro-Trump cryptocurrency called "magacoin" was launched and drew hundreds of right-wing supporters to register for it earlier this year, The Guardian reported in July. The creators claim the coin was founded "by America First Conservatives out of frustration with 'Losing the Election' and a desire to fight back by supporting MAGA candidates."
In November, some conservative figures began promoting "Let's Go Brandon" ($LGB) coins as well. "Let's go Brandon" has become a euphemism among Trump supporters for "F*** Joe Biden."


Read More: Steve Bannon touts "alternative" cryptocurrency $FJB for Trump supporters to "F Joe