The world of crypto assets is volatile and unpredictable. But blockchain, the technology that underpins all cryptocurrencies has been hailed by virtually all.
Blockchain allows development of applications where peer-to-peer architecture is at the heart. It means users play an important role in governance of any application. While Ethereum and Solana are leading blockchain networks, new projects are claiming to provide a complete 'AWS-like' infrastructure.
One of these projects is Flux. Let's know what is Flux blockchain project, and what is FLUX crypto.
Flux blockchain ecosystem
Flux claims to be an enabler for other blockchain-based projects.
Flux project includes decentralized computing services and multiple development tools that developers can use to build and deploy their decentralized apps. It claims to be an enterprise-grade service provider with features that may be used to launch blockchain-based ideas more efficiently.
Flux cloud infrastructure also provides crypto wallet services to users. Here, multiple crypto assets can be bought, stored and swapped using the Zelcore wallet. The Flux operating system or FluxOS consists of FluxNodes, which the network claims are distributed widely across the world.
FLUX crypto
FLUX crypto serves as the native token of the ecosystem.
Flux crypto gained immensely in 2021. The bull-run started in early November, before which FLUX was trading at under US$1. By the end of the year, FLUX crypto was trading at over US$2.
Also read: Top cheap cryptocurrencies with high market cap
With a market cap of nearly US$325 million, FLUX crypto is presently trading at nearly US$1.4.
FLUX crypto price prediction
FLUX traded at above US$2 price level until January 20, 2022. It has dropped over the past 24 hours by almost 5 per cent.
There is little certainty where the price will fluctuate in the near-term considering the ongoing volatility, which is ailing the entire crypto market.
In the medium-to-long term, price may cross US$5. For this to happen, Flux cloud infrastructure has to find more users. With more developers using services, the native FLUX token can have more demand. This is because FLUX would also act as the governance token of the ecosystem.
Also read: Why is crypto market down? 5 key reasons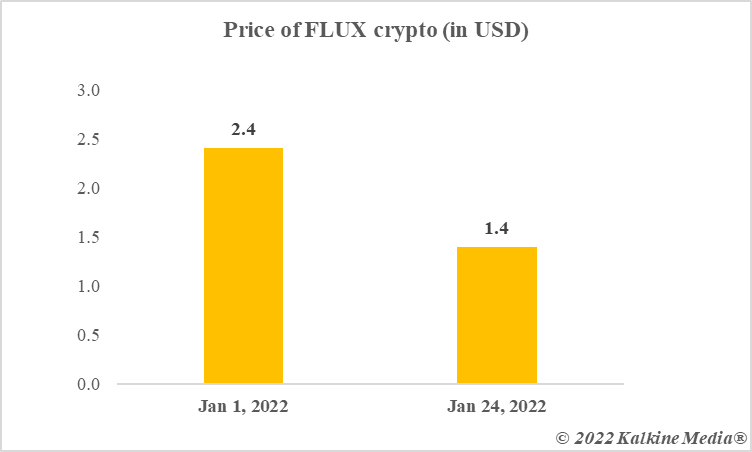 Data provided by CoinMarketCap.com
Bottom line
Flux is a market participant in an industry that is inundated with players offering similar services. Flux may be able to grab some interest by claiming to be like Amazon Web Services (AWS) in the field of blockchain.
The native crypto would find use only within the network. Flux claims that it can be used on many DeFi network including BSC and Ethereum. Lately, all major crypto assets have lost value due to the fear the Fed might raise rates. In the medium-term, FLUX crypto price would be shaped by its demand and use of Flux ecosystem by blockchain developers.


Read More: Flux crypto. What it does, and what is FLUX price prediction