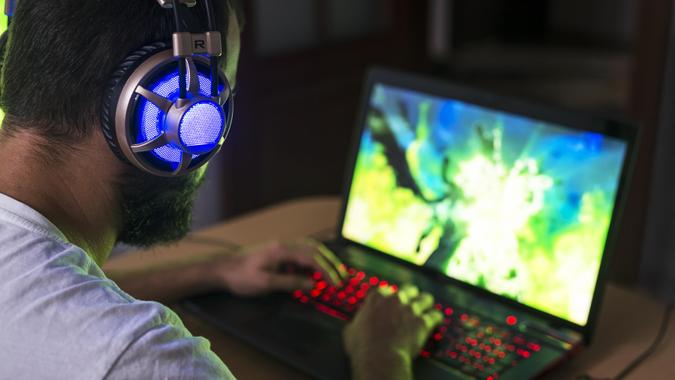 ©Shutterstock.com
Were you the kind of kid that said "I wish I could make money playing video games."? That dream is now a reality for many.
Axie Infinity is a new take on creating crypto. It combines the use of non-fungible tokens and Ethereum (ETH) in a playable ecosystem. Instead of "pay-to-play," Axie Infinity co-founder Aleksander Leonard Larsen says that Axie Infinity is "play-to-earn."
What Is Axie Infinity?
Axie Infinity is a social game where players can earn Smooth Love Potion, or SLP, the in-game currency, and AXS that can be directly exchanged into USD.
Axie Infinity has been compared to Pokemon, World of Warcraft, and Roblox, but using crypto. Axies are monsters that love to battle. Like Pokemon, you can collect, breed, train and battle these little monsters. Unlike Pokemon, each Axie is an individual and you own them. Axies are NFTs, meaning ownership is easily verified.
Only the battle arena and breeding are available right now, but Larsen expects Axie Infinity to be on par with World of Warcraft or Roblox in terms of daily player use.
Axe Infinity has the ultimate goal of being a single platform with all these features:
Social network
Marketplace
Breeding Game
Progression of Axies (Includes leveling and achievements)
Player vs player areas with ladders and tournaments
Player vs environment/Adventure mode
Land gameplay where players can create their own homebase
Players can grow their kingdom, harvest resources, attack Chimeras and other players.
Lunacia SDK: Developers and creators can make games with existing Axie Infinity assets and host them on land.
How Did Axie Infinity Get Started?
Axie Infinity's creators met playing Crypto Kitties and wanted to make something educationally similar for crypto beginners. In 2018, they created Sky Mavis, a technology-focused game company that is developing Axie Infinity. Axis Infinity is the only game developed by Sky Mavis so far.
How Does Axie Infinity Work?
Here's more about playing Axie Infinity.
Battling
This is where users can see Pokemon's heavy influence. Some Axies are better against others, but each individual's four stats are how Axies get powerful across the board. The stats are:
Health: How many hits an Axie can take
Morale: Higher chance for critical strike
Skill: Higher damage for combos
Speed: Which Axie attacks first
These are affected by each of their six body parts. Like Pokemon types, each Axie also has a class, which can get 15% extra damage dealt to classes they are strong against.
Winners gain SLP and increase in level. Higher levels can earn even more SLP, which can be used to breed Axies or sold on the marketplace.
Breeding
This is where the earning takes off. Each Axie can only be bred seven times and requires AXS and SLP. The more an Axie is bred, the more it costs to breed it again. When the battle guide was written, the cheapest Axie cost five times as much to buy as to breed.
For each of the Axie's six body parts, it has three genes — dominant, recessive and minor recessive. The baby Axie has the highest chance of getting the dominant trait, and the lowest chance of getting the minor recessive trait, with the chance of the recessive trait being in the middle.
Classes have equal chances. If the parents are in different classes, then it's 50% for each. If the parents are in the same class, the baby will certainly have that class.
It's up to the market which Axies are most expensive. Some breeders go for powerful Axies for battles, but others want rare traits even if they aren't powerful.
Marketplace
SLPs, Axie, and any other NFTs that come out in the future can be bought and sold on the marketplace. Right now, if players don't want to breed, they can sell their SLPs to others on the marketplace, or players can earn them in battles or find SLPs in adventure mode.
Is Axie Infinity Sustainable?
Some may say that the only reason Axie Infinity's value grew over 200 times in the last year is that players have a large buy-in. Players need at least three Axie to play, and the cheapest cost around $300 each. That means just getting started can cost over $1,500.
There are scholarship programs available, but as they are set up by the players, Axie Infinity and Sky Mavis have no authority or responsibility to deal with scammers.
According to Larsen, Axie Infinity is not going to rely on buy-in. Eventually, the game will support itself through trading fees. Even if players can't earn money, he expects players to love playing it for the game. Almost half the players now say that's true for them.
Takeaway
If you loved Pokemon as a kid and have an extra $1,500 to spare, this crypto video game might be a fun side gig for you. As with most investments, if you can't afford to lose it, don't risk it.
Our in-house research team and on-site financial experts work together to create content that's accurate, impartial, and up to date. We fact-check every single statistic, quote and fact using trusted primary resources to make sure the information we provide is correct. You can learn more about GOBankingRates' processes and standards in our editorial policy.


Read More: What Is Axie Infinity? How To Play the Crypto Game and Earn Money