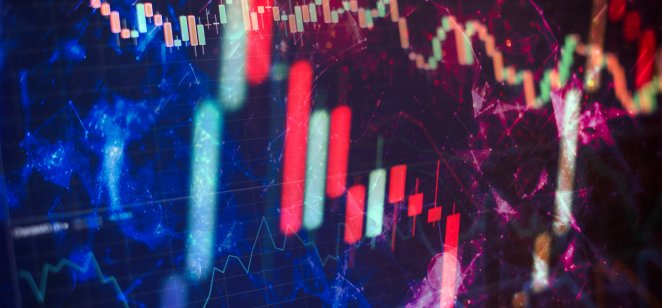 Much like the traditional finance sector, the gaming industry is witnessing the advent of a new era supported by blockchain technology and cryptocurrencies. Blockchain games like Decentraland (MANA), Axie Infinity (AXS) and The Sandbox (SAND) have empowered gamers to monetise their gaming experience and in-game assets, leading to an emergence of a new niche called play-to-earn (P2E) gaming. 
"According to data from DappRadar, there are an estimated 1,000 blockchain-based games that have emerged to date, which represents a very small portion of the over 1 million individual video games that exist today according to research from GamingShift," said blockchain research company The Block in a
report
.
Will the cryptocurrency earning games gain broader adoption in 2022 and beyond? 
Decentraland (MANA) live price chart
Games to earn crypto: Market outlook
Mobile games have evolved from pay-to-play to free-to-play and now to a play-to-earn model. The 'play game get crypto' concept has attracted video games' enthusiasts worldwide.
The P2E phenomenon means games can earn crypto while playing. Many gamers are delighted to exchange game tokens for fiat currencies to pocket an extra income. Stories of cash-strapped, home-restricted Filipinos turning to Axie Infinity as a new legit way to earn their daily bread during the pandemic have been well-documented. 
Venture capitalists have invested a record $4bn in blockchain games in 2021 – well up on the $80m invested in the sector a year earlier. P2E crypto games are attracting interest.
"Nonetheless, at ~3BN users, the gaming industry already has a massive, tech-savvy, and highly engaged community. Successfully integrating blockchain technology into one or a handful of today's top games could represent a massive increase in adoption. And based on the explosion of funding in the industry this year, all signs point to deployments of new blockchain-based games picking up substantially over the coming years," said The Block. 
Traders and gamers, who want to earn crypto by playing games, have plenty of options to choose from. For this article, we pulled together the top play-to-earn crypto games list by market capitalisation, based on CoinMarketCap's data. 
Top 5 play to earn crypto games 2022
The performance of leading gaming tokens like MANA, SAND and AXS have been underwhelming so far in 2022, with each posting year-to-date losses of over 40% (as of 18 April). The emergence of new tokens like ApeCoin (APE) and STEPN (GMT) has introduced a fresh wave of optimism to the nascent P2E sector – the price for each token is up over 1,000% since March 2022.
Although looking at the largest market capitalisation alone does not make them the best crypto games to make money from, the numbers are evidence of traders' interest in these five projects.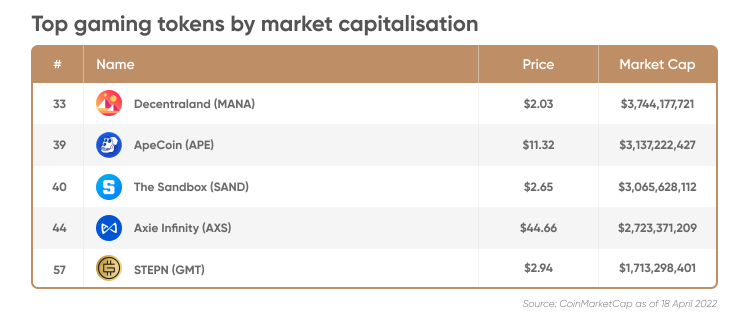 Play-to-earn crypto games list: Decentraland (MANA)
First on the list of play-to-earn or play-to-win crypto games list is Decentraland (MANA). Decentraland is a virtual reality platform on the Ethereum blockchain. Users can create avatars, trade non-fungible tokens (NFTs), such as digital wearables and in-game land, and interact with other gamers. 
Decentraland's in-game currency, MANA, is a ERC-20 cryptocurrency token. As of 18 April 2022, MANA is the 33 biggest cryptocurrency in terms of market capitalisation, valued at over $3.7bn, according to CoinMarketCap.
On Decentraland, MANA is used to purchase finite virtual space or land parcels and other in-game digital assets. MANA holders can also use the token to vote on governance policies and to pay for in-world goods and services. 
One of the highest land NFT sales to date took place on Decentraland in November 2021 when Canada-based Token.com bought a land parcel in the platform's Fashion Street Estate for 618,000 MANA, about $2.4m at the time. What followed was MANA hitting an all-time high of about $5.9 in late November 2021 as several fashion houses, including Gucci, Louis Vuitton and Burberry, and US investment bank JP Morgan set up virtual shops in Decentraland. 
The metaverse platform has announced that it is in "early prototyping stages" for its mobile app. Decentraland will also develop a Desktop Client version, which has been released as a beta version. According to Decentraland, visits to its virtual world will be faster and seamless with the Desktop Client. 
Is Decentraland free-to-play? Users have to connect their Web3 wallets such as MetaMask, Fortmatic and WalletConnect to enter Decentraland. The option to "play as guest" allows players to style their avatars and explore Decentraland without the need of a crypto wallet.
ApeCoin (APE): Bored Ape Yacht Club's new gem
In mid-March 2022, Yuga Labs, creator of the NFT game Bored Ape Yacht Club (BAYC), introduced the ApeCoin (APE). It's now among the top 50 most valuable cryptocurrencies. The token quickly became available in most of the top cryptocurrency exchanges, including Coinbase, Kraken, Gemini and Binance. As of 18 April, the token is the 39th largest cryptocurrency with a market capitalisation of over $3.1bn.
According to its official website, ApeCoin will be used as a governance token for the ApeCoin DAO, a decentralised governance organisation that will manage the ecosystem's fund allocations, governance rules, projects and partnerships.
In all, 150 million ApeCoins were distributed to BAYC and MAYC (Mutant Ape Yacht Club) NFT holders, amounting to 15% of the maximum ApeCoin supply of 1 billion tokens. According to the website, a BAYC holder can claim 10,094 ApeCoin tokens, worth over $118K at the current (18 April) ApeCoin price of $11.72.The average BAYC price in the last 30 days stood at about $263K, data from DappRadar showed.
Of the total, 47% of the total ApeCoin supply was allocated to the ApeCoin DAO treasury, 16% to Yuga Labs, 14% to launch contributors and 8% was given to the four founding members of Yuga Labs, according to the official website. 
On its debut, ApeCoin skyrocketed from its open price of $1 to a high of $39.4 on 17 March. The price was driven by news. Hong Kong-based game developer Animoca Brands announced that it will convert its smartphone game, Benji Bananas, to play-to-earn and allow players to swap in-game rewards for ApeCoins. On the same day, official Beijing Olympic Games video game creator nWayPlay announced that it is developing a play-to-earn game which will adopt ApeCoins as its in-game currency.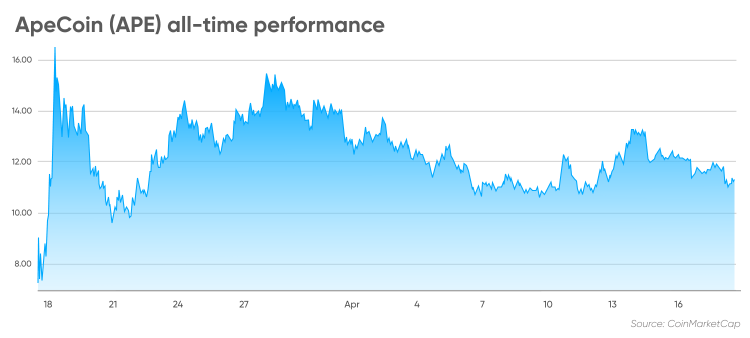 The Sandbox (SAND): Minecraft-inspired P2E blockchain game
Sandbox (SAND) is next on this list of gaming cryptos to 'get paid' with. It's a virtual world wherein players can create game items that can be sold on The Sandbox's marketplace in exchange for its native currency, SAND. This is made possible by VoxEdit, a software that allows players to create and animate characters, cars, tools and other objects. 
Players can purchase LAND on The Sandbox using SAND tokens. London-headquartered investment bank HSBC (HSBA) was the latest to take the plunge into the metaverse when the British multinational acquired a plot of virtual real estate in The Sandbox for an undisclosed fee. Household names such as luxury fashion company Gucci, sportswear brand Adidas, gaming company Atari and rapper Snoop Dogg have already partnered with The Sandbox.
The P2E crypto game, which started as a mobile game in 2012 before transitioning into an Ethereum-based metaverse game in 2018, is planning to release a mobile version of The Sandbox by the end of 2022 and hopes to make its game available on multiple console platforms, according to its roadmap. As of 18 April, SAND was the 40th largest cryptocurrency by market capitalisation, valued at about $3.02bn.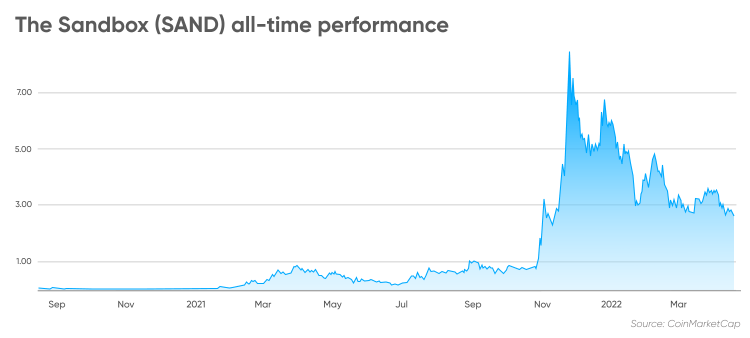 Axie Infinity (AXS): Pokemon-inspired blockchain game
Axie Infinity (AXS) is synonymous with play-to-earn gaming since it launched in March 2018. On Axie Infinity, players collect, raise, breed and battle digital pets called Axies which are used to perform in-game tasks to earn the two in-game tokens: Axie Infinity Shards (AXS) and Small Love Potion (SLP). Each Axie is an NFT that players can trade on the platform's marketplace. Land in Axie Infinity is tokenised and can be bought and sold. According to DappRadar, the highest land plot sale was worth over $2.3m and the most expensive Axie sold for over $819K in 2021.
Last year, Axie Infinity, which is built on the Ethereum blockchain, migrated to its sister layer-2 sidechain, Ronin Network, in order to manage the influx of new users and bypass Ethereum's expensive gas fees and network congestion. However, on 23 March 2022, hackers stole over $615m in USDC and ETH by exploiting a bridge on the Ronin sidechain causing prices of AXS and SLP to plunge on the news. On 29 March, Ronin Network announced that the FBI attributed North Korea-based Lazarus Group to the hack – the largest cryptocurrency hack ever, according to blockchain research firm Chainalysis.
"Digital thieves had a big year in 2021, stealing $3.2 billion worth of cryptocurrency. But in 2022, they're shaping up to steal even more,"
said
Chainalysis. "In the first three months of this year, hackers have stolen $1.3 billion from exchanges, platforms, and private entities." 
Chainalysis said that the Ronin attacker gained access to five of the nine transaction validators' private keys, then used that majority to sign off
ETH
and
USDC
withdrawals. Ronin has since come out and said it aims to "reach a state in three months where at least 21 independent validator nodes are collectively securing the network."
"We are committed to ensuring that all of the drained funds are recovered or reimbursed, and we are…


Read More: Play-to-earn crypto games: ApeCoin and STEPN leapfrog leaders