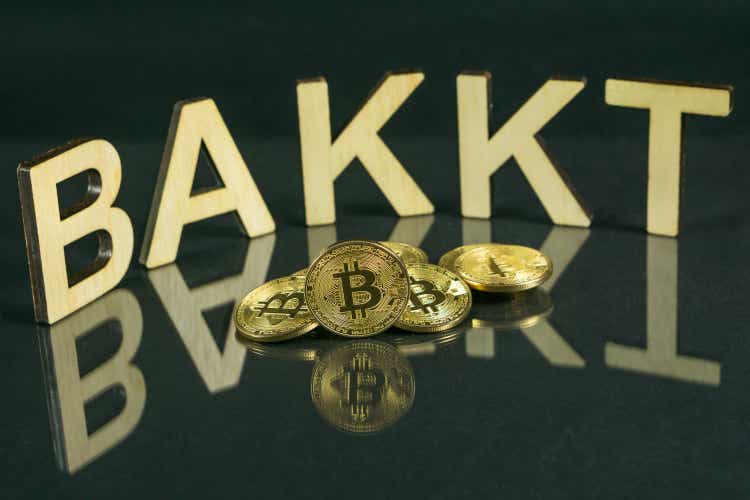 Bakkt Holdings (NYSE:BKKT) is headquartered in Alpharetta, GA just northeast of Atlanta. Bakkt's parent company Intercontinental Exchange (ICE) is headquartered nearby in Atlanta. ICE holds a 68% ownership of Bakkt and is also the owner of the New York Stock Exchange, along with a dozen other global financial exchanges. Bakkt was born in 2018 out of ICE's desire to fill a void for institutional crypto custodial and exchange services.
Institutional Ownership In BKKT
ICE's strategy as the parent company of Bakkt is to maximize long-term shareholder value for ICE's shareholders. No surprise there, but this speaks to the level of support that ICE is providing Bakkt to assist in its success. ICE maintains majority control of the outstanding shares, while allowing a minority amount of shares to float publicly.
ICE believes that by bringing Bakkt public it can provide the support and direction to enable this emerging growth company to achieve a far greater market valuation by trading on the NYSE. Assisting in Bakkt's success is the strategy for maximizing shareholder value at ICE. Having this level of support from your parent company, who is the global leader in the operation of financial exchanges and clearing houses, is very good news for Bakkt shareholders.
In addition to ICE's 68% ownership stake in Bakkt, other early institutional investment includes ownership stakes by Microsoft (MSFT), Starbucks (SBUX), et. al. Combined early investment from institutional investors totals about 80% of outstanding shares
Institutional money manager Invesco is headquartered in Atlanta local to the headquarters of both Bakkt and ICE. Atlanta is a relatively small investment community where investors often share ideas. Invesco recently filed a 13-D that disclosed a 7% ownership stake in Bakkt. Fintel reports that Invesco purchased another 2M shares of Bakkt among 2 separate funds managed by this large institutional investor. Fidelity's significant ownership position is in addition to the 80% ownership of ICE and early investors.
The remaining minority of shares available to public investors may prove to be a profitable trade as ICE seeks to assist Bakkt in becoming a successful growth company. ICE has the resources and relationships to guide Bakkt's growth and maximize shareholder value for ICE. CEO Sprecher of parent company ICE believes that Bakkt may be a disruptive force in the market by implementing blockchain based crypto solutions to be cheaper, safer, faster, and more efficient than credit card payments: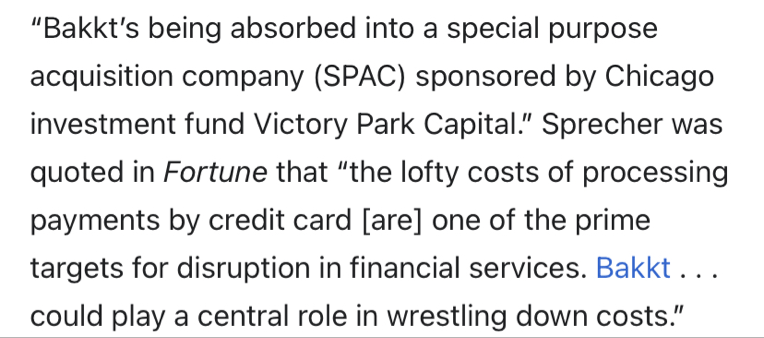 Recently, CEO Sprecher was asked about their ownership position in Bakkt Holdings by the JP Morgan analyst during a recent ICE earning's conference call. Sprecher's response included the following quote: Bakkt is, "… an all-weather name that can grow on top of growth." "And so we're very, very high on that company and want to give it every opportunity to demonstrate its value to the market."
It is important to note that ICE brought Bakkt public to unlock the value of this growth company primarily for the benefit of ICE shareholders. The very high institutional ownership of Bakkt imparts a strong sense of confidence on the part of these investors for the future of this emerging growth company.
Due Diligence And Key SEC Filings
Bakkt is an emerging growth company that is now launching its expanding business model beyond its initial legacy business of institutional crypto currency trading and custodial services. Because it is early in the development of the Bakkt business model, revenue growth is starting at low levels and may deliver triple digit growth for the foreseeable future. Stock's experiencing triple-digit revenue growth can deliver strong performance for investors.
In one sense, the SPAC market has been a throwback to earlier days before private equity came to dominate the best companies prior to their IPOs. In recent years, private equity has absorbed much of the stellar growth achieved by successful, private tech companies. The model for private equity has been to then bring these winning companies public near peak growth. With inflated valuations, and the best years of growth behind these companies, many of these IPOs were disappointing for retail investors.
The recent SPAC market has brought a few quality companies directly to the retail investor early in the development of the business model of these companies. Buying and holding these winners during their best growth years can create great opportunity for the retail investor. Instead of private equity soaking up all of the wealth-building growth in the early years of a company, the SPAC market enables retail to perform due diligence and discover winning companies for ourselves.
The tradeoff is that you may have to be patient for longer as the business model develops in these nascent companies. Bakkt appears to be in the process of launching a succession of partnerships with major corporations currently. As these launches begin ramping revenue growth higher, they will likely become cumulative to deliver strong revenue numbers. Bakkt's emerging growth appears to be concurrent with the rapid expansion of the global crypto economy. This might indicate that Bakkt is a growth company within a growth industry, the gold standard for finding winning emerging growth stocks.
Emerging growth historically has yielded many of the multi-bagger trades that are the holy grail of investors willing to accept a higher level of risk. This is where due diligence is essential, but is never a guarantee for success. Beware that the potential for higher rewards is accompanied by the potential for higher risk. Emerging growth stocks may carry a greater degree of risk than more established companies.
Bakkt's SEC filing's page is here. Below are two key recent filings:
This prospectus was recently filed ahead of the 4/15/22 lockup expiration.
Bakkt's 2021 Annual Report dated 3/31/22 can be found here.
The Bakkt Management Presentation can be found here. This document likely accompanied an SEC filing, as part of the IPO deal deck used for marketing the investment.
B2C Vs. B2B2C
The excerpt below is from Bakkt CEO Gavin Michael's letter to shareholders in the 2021 annual report:
The following key difference between the Business 2 Consumer, B2C, model versus the Business 2 Business 2 Consumer, B2B2C, model is an important distinction for investors to consider:
In the B2C model a company has to spend huge amounts of valuable capital on marketing to individuals. Bakkt is not this.
In the B2B2C model Bakkt partners with major corporations, and then gains leverage from the size and scale of the partner's customer base. The larger corporate partner pays the cost of marketing Bakkt's service to its own customer base. Very efficient.
Few other competitors carry the prestige and pedigree of Bakkt and its parent company ICE. This is why a relatively young, emerging growth company such as Bakkt can land partnerships with major corporations like Mastercard (MA). Just days after coming public in September 2021, Bakkt announced their partnerships with Mastercard and Fiserv (FISV) on the same day.
By leveraging its parent company's support and reputation, Bakkt is able to partner with the largest companies in the world. Please reference Bakkt's existing partnerships with Apple's (AAPL) Apple Pay, and Alphabet's (GOOG) (GOOGL) Google Pay. BKKT plays a supporting role as these major corporations rollout their marketing campaigns for Bakkt's service on the major company's platform. Very efficient marketing plan and business model that few competitors can match.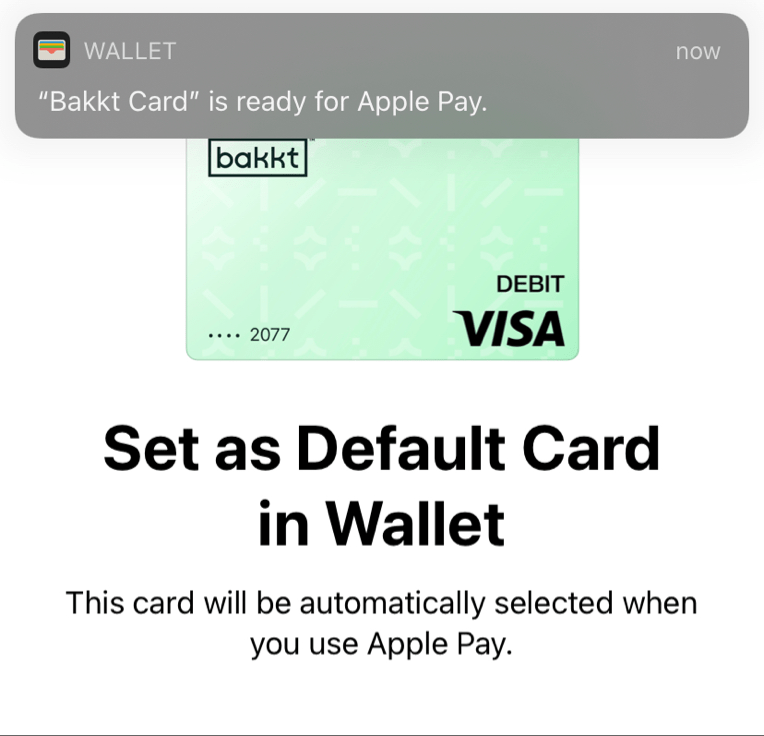 Emerging Growth Company Expanding Upon Its Core Business Model
Bakkt's institutional crypto exchange and custodial services were launched in 2018. Bakkt provides the institutional grade crypto trading and custodial services with the highest levels of security, competence, regulatory compliance, and the reputation of having ICE as their parent company.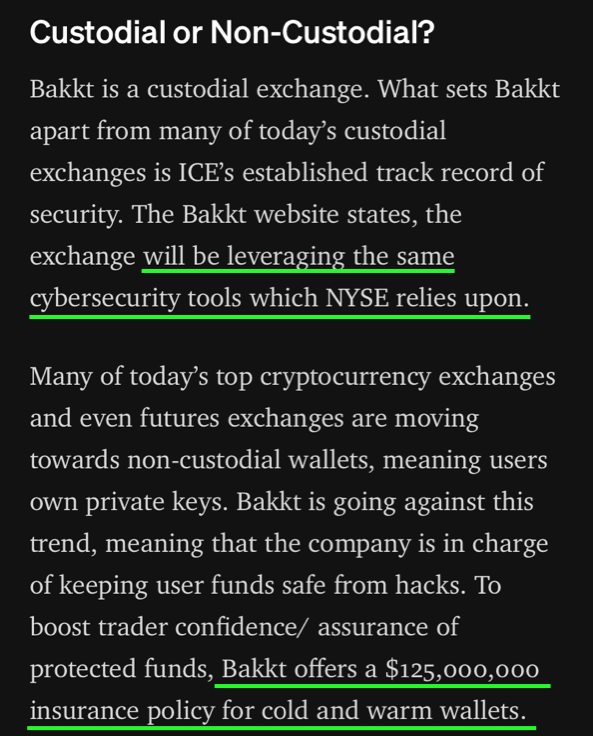 Bakkt is developing several different, significant revenue drivers in its expanding business model. The institutional crypto custody and trading business is one of these growing revenue streams. The following article is dated 2018 after the founding of Bakkt by ICE. It speaks to the foundational advantages that are inherent in the Bakkt infrastructure: NYSE Operator's New Bakkt Platform Beats Coinbase, Says Tom Lee | Bitcoinist.com
Recently, institutional crypto firm Nexo has chosen Bakkt to custodian its customer's BTC, and ETH: Bakkt Selected by Nexo to Securely Custody Bitcoin, Ethereum.
Major Wall Street investors and large U.S. corporations view Bakkt as one of the top options for handling their crypto-related business. This top-tier reputation enjoyed by Bakkt and its parent company ICE is a strong catalyst for Bakkt's ability to land major corporate partnerships. Bakkt and the NYSE are both in the ICE global ecosystem of exchanges and clearing houses, leveraging the same resources.
More recently, Bakkt has begun expanding its business model beyond its core crypto exchange and custodial services for institutions. The very diverse…


Read More: Bakkt Stock: The Emergence Of A Crypto-Economy Giant (NYSE:BKKT)