Editor's note: Seeking Alpha is proud to welcome Christopher Canno as a new contributor. It's easy to become a Seeking Alpha contributor and earn money for your best investment ideas. Active contributors also get free access to SA Premium. Click here to find out more »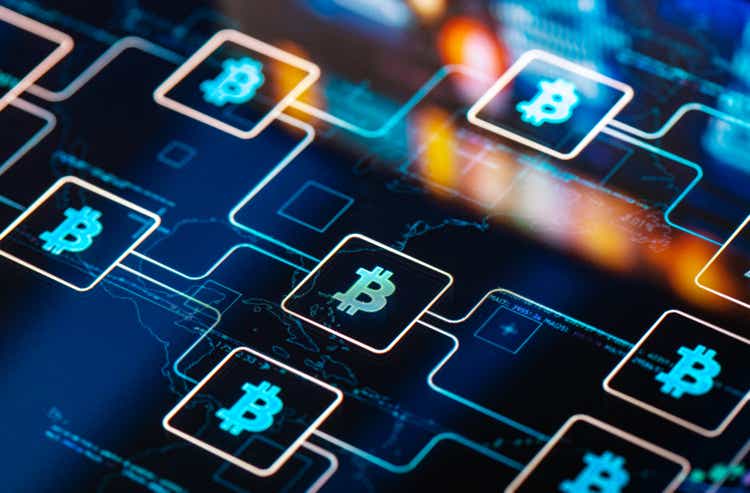 We are in a time where there is widespread fear and uncertainty in equity markets, specifically in growth companies. Because of this massive cooldown in growth plays, they have seen their valuations drop and have sparked some interest of late from speculative investors. Due to the significant correlation of crypto mining stocks with the price of Bitcoin (BTC-USD), the largest cryptocurrency, these stocks have not fared well as of late.
Bitfarms (NASDAQ:BITF) is a company that has caught my eye in the past month or so. During the bitcoin bull run in Q1 2021 and Fall of 2021, the stock performed amazingly and primarily benefited from this run-up. As a result of bitcoin nearly going through a 10x from March 2020 to March 2021, the company was able to take advantage of the growth opportunities in the relatively new mining industry. However, as the euphoria in the crypto markets has faded, it has left most of the stocks in the dust, at prices not seen before the bull runs. Nonetheless, I see the fear and dip as an exceptional opportunity.
Year to date, as stated above, shares of Bitfarms have collapsed by around 46%. Relative to highs above $9/share that BITF notched during the peak of the Bitcoin price in November of 2021 and prior to the equity market correction of late 2021, the stock has lost around 70% of its value. In my opinion, this is a time when investors should look at this stock with an open mind and recognize several factors that can push this stock towards these levels shortly.
My take is that investors should take advantage of this whipsaw dip and buy Bitfarms. It might be a fearful market, but just like the legendary investor Warren Buffett said, "fearful when others are greedy, and greedy when others are fearful." I admire these words and feel as though this is a great time to be using them. Although I am bullish on this stock and the crypto market as a whole, this can take a few months to start ramping up, as there is peak fear in bitcoin right now, and it takes time for investors to move into the mining stocks.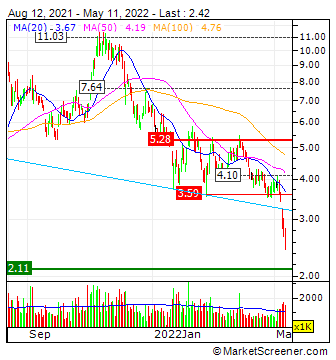 General Overview of Bitcoin Mining
To competitively mine bitcoin, you must build a setup with a lot of computational power. Because technology is constantly evolving and bitcoin mining forces technology to consistently be running, this causes major expenses to a company. As technology grows year over year, computational power also ramps up, and companies must capture this power by grasping the advanced technology and discarding obscure machinery.
Popular bitcoin mining hardware includes WhatsMiner and AvalonMiner models. These models generally use the same algorithms to mine bitcoin and successfully complete transactions. On the Bitfarms company website, they add, "The mining process deals with the validation of transactions on the Bitcoin network. Miners receive rewards for maintaining the integrity of the network and are incentivized to only generate blocks containing legitimate transactions." Understanding the operations of the company you are investing in is probably the most significant thing an investor should do, and bitcoin mining is pretty confusing to an outsider. Mining hardware compares against each other based on the hash rate, which is the computational power and speed of mining the bitcoin, as well as the power costs they charge while in use. The Antminer S19 Pro is lately tokened as the best and most efficient bitcoin mining rig. This equipment is greatly sought after from mining corporations such as Bitfarms. With 110 Th/s for its hash power, it can effectively dish out a profit to the owner as long as they efficiently power it.
Bitfarms' Recent Purchase and Press Release
The company provided a March 2022 production and mining update early in April. From an investor's point of view, this is something I value because being updated consistently is fantastic. Being left in the dark on an investment is a terrible feeling, and the management team and PR do a great job of pushing out updates for valued shareholders.
In this update, they shared that the hash rate increased to 2.7 EH. I have noted above (summary bullets) that it has climbed to 3.3 EH/s, which is outstanding growth in just a couple of months. Emiliano Grodzki, CEO of Bitfarms, added that they have an average of 12.5 bitcoin mined per day, which shows exceptional month-over-month growth of 18%. Even though this equated to about $575,000 in daily revenue at the time, this was when bitcoin was $46,000 per coin, a far cry from the price now. Unfortunately, the price of bitcoin has corrected to $35,000 levels at the time of this report. However, with their increase in hash rate from 2.7 EH to present-day power of 3.3 EH, this almost wipes out that drop in price.
The company moved 360 bitcoins from mining into custody during this press release which shows the management's confidence in their operations and the overall market they operate in. As of March 31st, 2022, the company had 5,243 bitcoin locked up in custody, representing a value of about $183.5 million. With a market cap of $420 million and BITF holding well over 1/3 of their market value in bitcoin, this shows their confidence in the coin and their thoughts on its potential growth outlook.
As of their latest corporate update and quarterly investor call, the company shared that they continue to execute on their 2022 Business Plan, which is to reach 7.2 EH/s by the year-end. They are also rigorously exploring further expansion in Canada, Paraguay, and the United States to potentially reach a very strong hashrate of 8 EH/s.
How Bitfarms Finances Its Operations
From March 31, 2021 to December 31, 2021, the outstanding share count for Bitfarms increased from 124 million to 169 million shares. It is important to note that this increase in share count is from the dilution of shares and has been a significant source of financing for Bitfarms to grow its operations. However, it is crucial to note that their shares outstanding count dropped from 177 million on 9/30/21 to 169 million on 12/31/21, indicating a reduction in outstanding shares. As of the present day, their shares outstanding per Yahoo Finance stand at 201.25 million. In about 14 months, the total outstanding shares have increased about 60%, which is a significant amount; however, it has slowed down as of late. Dilution is definitely negative from an investor's standpoint, however when looking at the rapid growth Bitfarms has shown over the years, dilutive capital is an easy way to finance operations and purchase new equipment.
Because operating cash flow is -$37.17 million TTM per Yahoo Finance, dilution is sometimes a necessary way to quickly pay off short-term obligations and meet purchasing agreement payments. Even though dilution is something that is unfavorable, Bitfarms has posted quarterly revenue growth year-over-year of 426.30%, conveying that dilution has been a significant way of rapid expansion.
The management team at Bitfarms added another source of non-dilutive capital when they entered a $32 million equipment financing agreement on February 25, 2022. This is something that made me excited because it showed to me that management was seeking alternative financing routes rather than toxic dilution. This is a big deal because personally, this was a step in the right direction for future financing sources for the company. The terms of the loan carried a two-year term and an interest rate of 14.5%. The loan was provided by BlockFI a crypto-financial services company that further supports the move as a success in gaining finances to leverage future growth. Although the interest rate seems relatively steep, with 6,100 Bitmain S19j Pros acquired through this equipment purchase, this loan should easily be paid off at current BTC prices.
Hopefully moving forward Bitfarms can continue to look toward non-dilutive capital sources and continue to build a trusting relationship/partnership with BlockFI to enable more favorable loan obligations.
Key Valuation Metrics – BITF and Competition
In this section, I will be using the trailing ten months (TTM) as a time period to base the valuation of several popular bitcoin mining companies. First off, we can take a look at earnings per share and P/E ratios of several mining companies to see some comparison metrics. When looking at Bitfarms, they have an EPS of 0.13 in the TTM, placing them at a price-to-earnings ratio of 16.08. Compared to some other significant mining companies, they show strong profitability per share, which is very bullish.
Moreover, the earnings per share of Marathon Digital Holdings (MARA) is negative (-0.36); that of Riot Blockchain (RIOT) is also negative (-0.09), while Hut 8 Mining Corp. (HUT) holds an EPS of -0.42. As you can see here when compared to some of the largest mining companies with market capitalizations over $400 million, Bitfarms has been the most profitable in the last 12 months, even through all of the bitcoin volatility.
However, because these companies are all relatively new in the space and expanding/growing significantly, investors can't only look at earnings ratios as a metric to compare corporations. Massive growth frequently comes with large expenses, so another ratio we can use is the price-to-book metric. Then P/B ratio measures if a stock is undervalued or overvalued by comparing a company's net value which is assets minus liabilities and the market…


Read More: The Bullish Potential For Clean Energy Bitfarms Ltd. (NASDAQ:BITF)