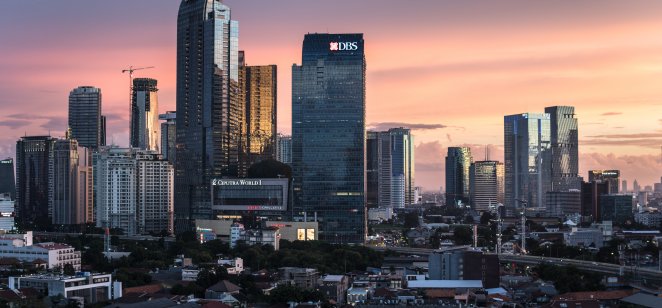 The Indonesian government has swung its weight behind the country's burgeoning crypto sector by launching a crypto exchange that will protect retail investors.
The news came from Indonesia's deputy minister of trade who added that the country's young population gave it an advantage in the cryptocurrency sector as it continues to embrace blockchain technology. 
While the country's stock exchange sees anaemic levels of trading it digital peer, Indodax, is Southeast Asia's biggest crypto bourse. 
The exchange offers a slew of cryptocurrencies leading BTC/IDR as well including AAVE, ADA, 1INCH, all in local currency.
AAVE to US dollar
"The crypto industry in Indonesia is growing very fast with an increase in transactions as of December 31, 2021 reaching a total of IDR 835 trillion ($700bn) and the number of investors is recorded at 12.5 million users," Dr Jerry Sambuaga, Deputy Minister of Trade of the Republic of Indonesia, said.
Ample crypto to IDR liquidity 
According to Coinhills the Indonesian rupiah is the 17th largest fiat currency into BTC globally but that still placed it second in Southeast Asia, behind the region's financial centre Singapore. 
One key aspect of the rapid expansion of the Indonesia crypto market is the ease of offramping BTC or ETH into IDR. 
BTC to US dollar
Recently one Indonesian retail ETH miner Milo, whose five computer set-up was earning him $4,000 a month during the crypto market peak in 2021, told Capital.com there was ample liquidity for converting digital assets in rupiah.
Investing versus mining for retail sector?
Milo said that using just his smartphone he could move ETH stored on his mining rig onto a local exchange, converting it into rupiah, and then withdraw the cash from an ATM all in under 10 minutes. 
He also extolled the virtues of mining for retail crypto investors, saying that as an ETH miner he got paid gas fees even if the token's price falls. 
Not all crypto investors have Milo's sophisticated understanding of the digital asset sector and it is this element of the market that the Deputy Minister was looking to protect. 
What is your sentiment on BTC/USD?
Vote to see Traders sentiment!
ETH to US dollar 
"We cannot stem technology, but we can choose what is good and what is not by providing sufficient education and clear protection for all industry stakeholders," he said.  
He made the comments at a panel discussion with the Monetary Authority of Singapore global marketing lead David Rhoades and Harpreet Singh Maan, president of ACCESS Blockchain Association Malaysia. 
Rupiah CBDC planned 
Jerry encouraged Indonesian crypto players to continue to innovate and educate the public to use digital assets as an investment instrument.
He also invited crypto players outside of Indonesia to invest and enter the local market.
This latest move by the Indonesian government is part of a broader strategy of embracing blockchain technology, with the country's central bank looking to launch a retail CBDC (central bank digital currency).
Read more


Read More: Indonesia aims to have crypto exchange that protects investors