The decentralized finance ecosystem has a lot of potential due to new and innovative solutions and platforms that are created daily. Again, many are hopeful that space will be widely accepted and even replace the centralized finance (CeFi) space.
We all know that the DeFi space hasn't reached its peak yet because of hacks, scams, and interest rate variability. Due to these high risks, DeFi platforms haven't been widely accepted.
With that in mind, some projects have emerged focused on addressing such challenges. One of these projects is BarnBridge, which aims to give investors some assurance through its novel tokenized risk protocol. Whether the crypto will hit $100 soon depends on many factors and we will narrow them down for you in this BarnBridge price prediction.
Today's BarnBridge price is $9.07 USD with a 24-hour trading volume of $94,372,490. BarnBridge is down 14.36% in the last 24 hours. The current CoinMarketCap ranking is #339, with a live market cap of $64,703,711. It has a circulating supply of 7,132,630 BOND coins and a maximum supply of 10,000,000 BOND coins.
What Is BarnBridge (BOND)?
BarnBridge is a DeFi risk tokenizing protocol. The protocol aims at reducing risks associated with DeFi, such as inflation, market price, and cash-flow volatility risk. The platform was created in 2019 and was officially launched in September 2020. As of March 2021, the platform was still in an early launch.
It is essential to know that its token, BOND, is mainly deployed in the governance function within the BarnBridge DAO. It also grants users voting rights and staking within the BarnBridge ecosystem.
BarnBridge also allows users to hedge against the risks in the DeFi space. The platform has the pool-to-pool design that has to do with creating a junior-senior model for its various applications, making fixed income and protection from price volatility possible.
How BarnBridge Works
BarnBridge offers derivative products that help hedge against price fluctuations in the DeFi space. Again, these products are focused on token-based derivatives that track the yield sensitivity of DeFi protocols and the price of assets.
The way BarnBridge works is unique. In BarnBridge protocol, digital assets in its market pool are exchanged for different assets; then, these assets are used to supply different lending protocols, each with its respective yield. Each loan is then put together in a security similar to a Collateralized Loan Obligation (CLO). The security of these loans is divided into tranches, and each tranche has its own risk and yield. Furthermore, each tranche is tokenized and offered to original investors of the pool.
As many decentralized finance platforms offer various market-driven yields, BarnBridge helps users hedge against risks for these platforms. BarnBridge also offers four primary applications: SMART Yield, SMART Alpha, SMART Exposure, and SMART Secret. The acronym SMART stands for Structured Market Adjusted Risk Tranches.
SMART Yield
SMART Yield was launched in March 2021. This application allows users fixed or leveraged variable yields on stablecoin deposits on lending markets such as AAVE, Compound Finance, and CREAM Finance.
SMART Alpha
SMART Alpha allows users to create leverage pools for any ERC-20 token.
SMART Exposure
SMART Exposure allows users to manage allocation to an underlying ERC-20 token pair passively. This application also provides an easy way to pursue risk-adjusted strategies.
SMART Secret
SMART Secret was built in parallel to SMART Alpha.
Who are the Founders of BarnBridge?
Troy Murray and Tyler Ward co-founded BarnBridge. Murray founded a crypto R&D firm RUDE_Labs, before working on BarnBridge. He was also the director of Strategy at Beaker and a supervisor/technical architect at snglsDAO Foundation.
Before he went on to co-found BarnBridge, Ward founded a digital marketing company focused on the fintech industry, known as Proof Systems. Ward also worked with Consensys, Earn.com, FOAM, Dether, Grid +, Centrality, Sylo, NEAR Protocol, DARMA Capital, SingularDTV, and snglsDAO.
What makes BarnBridge Unique?
BarnBridge aims to take decentralized finance by storm. However, it launched a decentralized autonomous organization (DAO). There is no central body that controls the development of BarnBridge. Instead, the Ethereum-based DAO is the only way to make decisions in the BarnBridge treasury. In addition, the BOND governance token is the mechanism to make these decisions.
Popular DeFi platforms such as Compound and AAVE offer a 5% annual percentage yield on some cryptocurrencies. But the setback these platforms have is that they don't offer fixed income. Again, adding cryptocurrencies to your portfolio means taking additional risks as cryptocurrencies are volatile.
With BarnBridge, you can aggregate yields with fixed income. This helps the entry into the crypto market easier and more personalized, opening it for broader acceptance. Users can also control how much volatility they are exposed to through tokenized risk products. BarnBridge can also be used to improve the effectiveness of trading stocks.
Where to Buy BarnBridge (BOND)?
There are several cryptocurrency exchanges where you can purchase BarnBridge. These crypto exchanges include Uniswap (V2), MXC.COM, 1inch Exchange, Bilaxy, and Hotbit.
How Is BarnBridge Protocol Secured?
BarnBridge BOND is based on the Ethereum ERC-20 network. However, the ERC-20 network is used for staking, governance, and incentives on the BarnBridge network. BOND tokens are stored in any wallet that supports the ETH network.
BarnBridge Price History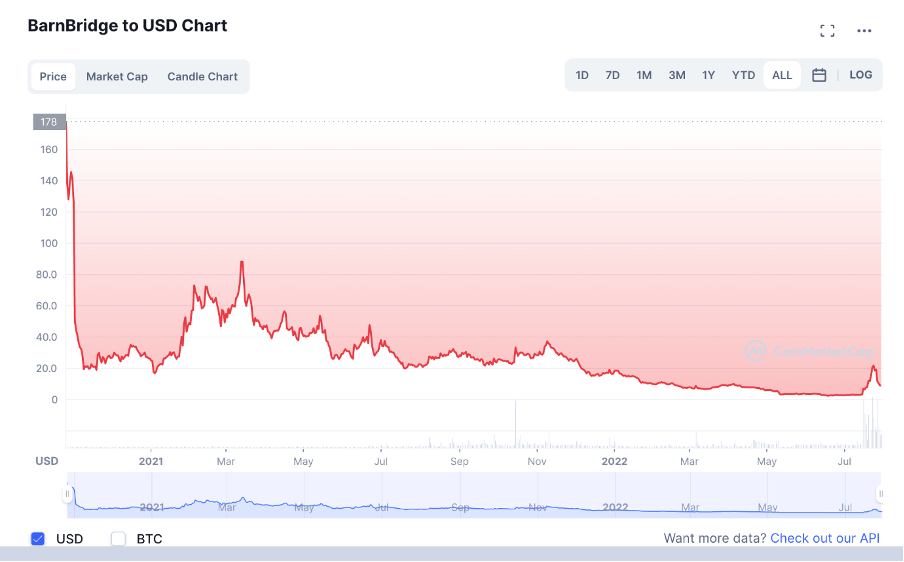 CoinMarketCap listed BarnBridge on Oct 26, 2020, at $80.55, and the BOND token price skyrocketed to its all-time high of $185.93 the following day. BOND couldn't maintain the momentum, and the coin crashed over the next week.
Furthermore, BOND traded at around $24.54 by the beginning of 2021. On Mar 14, 2021, BOND surged a bit and reached a price tag of $88.16 but declined again in a few days and reached $16.91 by the end of 2021. BOND has drastically been affected by the bearish trend in 2022 and has continued to hover around $18 to $6. At the time of writing, BOND's price is $9.07 USD.
New Developments In The BarnBridge Protocol
BarnBridge protocol also revealed that its DAO would move to OptimismPBC.
BarnBridge partnered with Optimism to launch SMART Alpha Pools for Synthetix and ChainLink.
BarnBridge Technical Analysis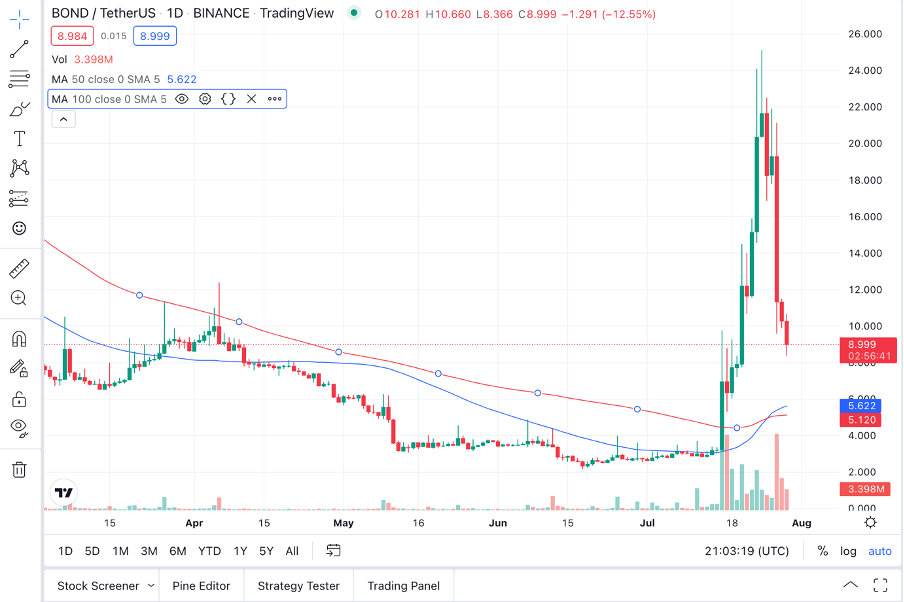 BarnBridge is below its 50-day and 100-day Moving Average in its 1-day chart above. The current BOND sentiment is bearish. Based on technical indicators, BarnBridge's 200-day SMA will rise next month and hit $ 9.24 by Aug 28, 2022. BarnBridge's short-term 50-Day SMA is estimated to hit $ 18.64 by Aug 28, 2022. BOND's RSI value is at 50.90, indicating that the BOND market is in a neutral position.
BarnBridge Price Prediction By Authority Sites
Wallet Investor
Wallet Investor predicts that BOND is a bad long-term investment. They expect the coin to be worth $1.812 in one year. Wallet Investor expects the coin to devalue by 87% by 2024. Again, the coin is expected to devalue by 68% by 2027.
Trading Beasts
Trading Beasts expects BarnBridge BOND to devalue by 4.72% by the end of the year 2022. They expect the coin to have a maximum price of $10.74 and a minimum price of $7.30 by then.
By 2023, Trading Beasts predicts that the coin will experience a slight increase of 11.60%. They predict that the coin will have a maximum price of $12.58, with a minimum price of $8.55.
Furthermore, Trading Beasts expects BOND to have a maximum price of $9.99 by 2024 — this means that the coin will experience a decrease of 11.40%. They expect the coin to have a minimum price of $6.79 with an average price of $7.99.
By 2025, Trading Beasts expects that BOND will have a maximum price of $17.35, with a minimum price of $11.79 and an average price of $13.87.
Digital Coin Price
Digital Coin Price predicts that BOND is a good investment. They expect the coin to have a maximum and minimum price of $12.48 and $10.94 by the end of 2022. By 2023, Digital Coin Price predicts that BOND will have a maximum and minimum price of $14.17 and $11.90.
Digital Coin Price expects BOND to have a maximum price of $24.41 and a minimum price of $17.20 by 2027. By 2030, BOND is expected to have a maximum price of $41.90 with a minimum price of $39.54. Furthermore, the maximum price of the coin by 2031 is predicted to be $49.77, while its minimum price would be $44.06.
Cryptopolitan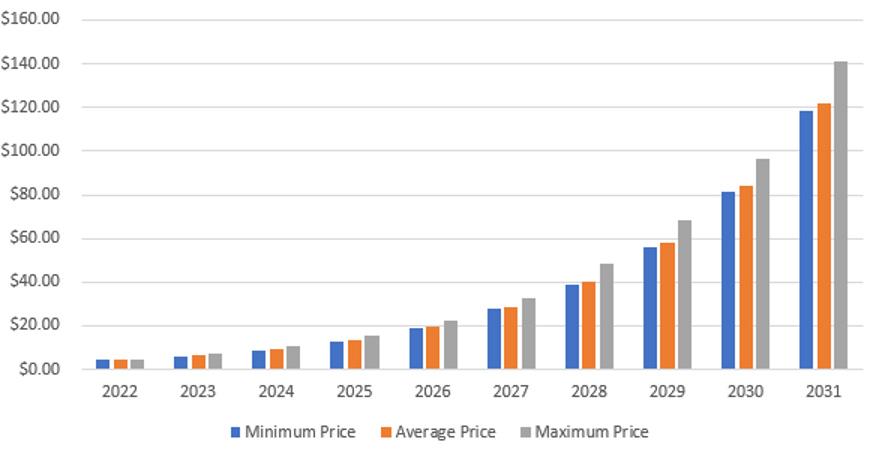 BarnBridge Price Prediction 2022
In 2022, we predict that BarnBridge BOND will decline and reach $4.63 maximum. The minimum price for the coin is expected to be by the end of 2022 is $4.19. We don't expect BOND to increase by the end of the year.
BarnBridge Price Prediction 2023
By 2023, we expect BOND to increase slightly from last year and reach a maximum price of $7.42. Its minimum and average prices are $6.05 and $6.25. Furthermore, we expect the crypto market to recover, positively affecting the cryptocurrencies. If this happens, we might see BOND recover and increase slightly.
BarnBridge Price Prediction 2024
We expect BarnBridge BOND to have a good ride by 2024, and the coin is expected to have a maximum price of $10.34. The coin's minimum and the average price are predicted to be $8.94 and $9.19.
BarnBridge Price Prediction 2025
We predict that BOND will have a maximum price of $15.57, with an average price of $13.58. The coin's lowest price by that time is expected to be $13.02. BOND might surpass our prediction if the BarnBridge ecosystem garners more partnerships and developments.
BarnBridge Price Prediction 2026
Moving forward to 2026, we expect BarnBridge BOND to be worth $22.69 maximum. This cryptocurrency is…


Read More: Barnbridge Price Prediction 2022-2031: Will BOND Hit $100 Soon? | Cryptopolitan